LAYOFF-TO-EMPLOYMENT ACTION PLANNER (LEAP)
Now in its Second Edition, the best-selling LEAP helps dislocated workers and UI claimants rank and cope with key issues faced after a layoff and develop a reemployment plan.
3 steps
Assesses job search and life barriers in 8 critical areas
Guides workers in creating a reemployment action plan tailored to their needs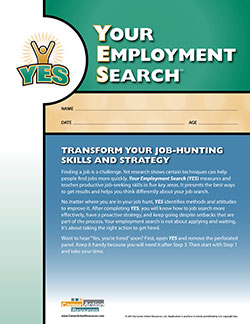 YOUR
EMPLOYMENT SEARCH
(YES)
YES measures and transforms job-search readiness and effectiveness. No matter where job hunters are in their work search, YES leads to a ready-to-use job-search strategy.
3 steps, plus an employment search strategy summary
Teaches proven job-seeking skills in 5 key areas
Guidance for developing a personal employment search strategy
Career Action Resources: Creators of Self-Assessments Used in Workforce Development, Employment Programs, & Career Services

Career Action Resources LLC is the creator of the Layoff-to-Employment Action Planner (LEAP) and Your Employment Search (YES). LEAP and YES are best-practice self-assessments that guide job hunters and the unemployed in job search and reemployment planning.

LEAP and YES are helping thousands of job seekers across the nation in workforce agencies, employment programs, and career centers.
CareerOneStop, sponsored by the U.S. Department of Labor, has launched a dramatic new design and interface. The site provides information and links on career assessment, labor market information, job openings, salaries, job searching, job skills, education and training, American Job Centers, and much more. CareerOneStop is sponsored by Uncle Sam and is based on the government's vast occupational, labor market, economic, and other data. On many parts of the site, you can drill down to find information specific to your location, such as the pay and projected number of openings for a specific job in your area.
The following post appears on the U.S. Department of Labor's Blog and was written by Kim Vitelli and Michael Harding, who work in the U.S. Department of Labor's Employment and Training Administration. Kim is the division chief for National Programs, Tools and Technical Assistance. Michael is the CareerOneStop project manager. The post is shared here by Career Action Resources, LLC, to spread the word about the new CareerOneStop.
When the CareerOneStop team embarked on a redesign of the site's resources, they didn't dive right into the technical work. Instead, they took an approach that focused on the user experience, usually referred to as UX in the design world. Using UX means taking a step back to learn about users' core needs and preferences. The team asked people who actually use the site questions like:
"Who's using CareerOneStop resources?"
The answer? Just about everybody: job seekers, businesses, students, current workers, laid-off workers, veterans, workers with disabilities, workers with criminal records, career counselors and other workforce professionals, and many other members of the public.
"Can users find what they need?"
The feedback was that because CareerOneStop offers so much information and has so many options, it can be hard for users to locate the best resources for their unique needs. The redesign team watched while people used the site to find what they need, and paid attention to where they expected to find the information and what kind of language was the most meaningful to them. In doing so, the team could identify and streamline the clearest way to organize information and resources for the many different kinds of users.
"Are CareerOneStop's websites and tools easy to use?"
People must be able to do more than simply find the resources they need--they also need those resources to be easy to use and effective at helping them meet their career, training and employment goals. The CareerOneStop team conducted usability testing on key tools and Web pages--which includes watching how users interact with the site--and made improvements in functionality, organization and language.
"How are users accessing CareerOneStop resources?"
The answer to this question was that while some people are smartphone-wired 24/7 (one recent survey found that 83 percent of people use smartphones or tablets to job search), others may lack dependable Internet service on a daily basis. CareerOneStop's goal is to make its resources valuable for all users. That's why both the redesigned CareerOneStop.org site and a newly launched Credentials Center are mobile-friendly--that is, they automatically adjust to a user's smartphone, tablet or desktop screen--providing on-the-go help. A number of the site's tools--including Job Search, Training Finder, and Salary Finder--are also available as mobile Web apps.
While making its resources accessible to mobile-equipped users, CareerOneStop didn't want to leave behind those with limited Internet access or low computer literacy skills. For people who may access the Web at a public library or an American Job Center, CareerOneStop provides printable guides and easy downloading and printing of key information and tool results. And for those who are less comfortable with technology, printed and video materials provide step-by-step guidance for many tools.
And because user-centered development doesn't end with the launch of new products, we will continue collecting and learning from the people who use the site to continually improve it.

Ever wonder what the monthly JOLTS report issued by the U.S. Department of Labor tells the workforce development community and America's job seekers? The following interview with the department's chief economist, Dr. Heidi Shierholz, sheds some light on JOLTS and helps workforce and career development professionals understand why they should pay attention to JOLTS. The interview was recently published in the U.S. Department of Labor's weekly newsletter and is republished here by Career Action Resources:
There are several indications that the job market continues to improve—the unemployment rate is down nearly a full percentage point from one year ago, and the economy has added more than three million jobs in that time. Issued on the heels of the monthly employment report, the Job Opening and Labor Turnover Survey—also known as JOLTS—often doesn't get the attention it deserves. The department's
chief economist, Dr. Heidi Shierholz, answers three questions about the importance of this valued indicator.
What exactly is JOLTS? JOLTS is a survey of employers who are asked about their employment activity in the past month. Responses are grouped into three main buckets—job openings, hires, and separations, which includes layoffs as well as people quitting voluntarily.
What can we learn from the report? JOLTS data is really important to understanding where the economy is now and what might happen in the near future. When job openings increase, we know that employers are feeling confident enough about the economy to hire new employees. What isn't as obvious is the 'quits' number. In bad economic times, that number is generally low because people are interested in maintaining their current job. When that number starts to rise, as we are seeing now, it means workers are getting more confident and they are willing to take a risk to quit their job to find a better one. Moving from one job to another may also mean people are finding better paying jobs.
What should we look for in future reports? One of the key data points we've tracked since the recession is the ratio between the number of unemployed people and job openings. At the height of the recession, there were nearly seven unemployed individuals for every job opening. That number has come down dramatically—to 1.7 people for every job opening, right in line with what we saw prior to the recession. As that ratio declines, employers will start competing for good workers, not the other way around. That's a good sign for the economy and may lead to a much needed acceleration in wage growth.
Source and Credit: DOL News Brief Newsletter, Feb. 12, 2015.
The U.S. Department of Labor, Employment and Training Administration has released a Training Employment Guidance Letter (TEGL 19-14) that lays out the vision for a revitalized, transformed workforce system as a result of the Workforce Innovation and Opportunity Act (WIOA). Further, it encourages workforce system leaders and partners to take action now to support successful implementation to fully realize the vision of WIOA.
This blog post highlights the information in TEGL 19-14 but has been trimmed for space by the editors at Career Action Resources, LLC. See the complete TEGL 19-14 here.
Vision for WIOA and the Workforce System
WIOA, which supersedes the Workforce Investment Act of 1998, presents an extraordinary opportunity to improve job and career options for our nation's workers and jobseekers through an integrated, job-driven public workforce system that links diverse talent to businesses. It supports the development of strong, vibrant regional economies where businesses thrive and people want to live and work.
This revitalized workforce system will be characterized by three critical hallmarks of excellence:
The needs of business and workers drive workforce solutions;
One-Stop Centers (or American Job Centers) provide excellent customer service to jobseekers and employers and focus on continuous improvement; and
The workforce system supports strong regional economies and plays an active role in community and workforce development.
Across the system, continuous improvement is supported through evaluation, accountability, identification of best practices, and data driven decision making.
The Needs of Businesses and Workers Drive Workforce Solutions: Businesses inform and guide the workforce system and access skilled talent as they shape regional workforce investments and build a pipeline of skilled workers. This engagement includes leadership in the workforce system and active participation in the development and provision of education and training, work-based learning, career pathways, and industry sector partnerships. Jobseekers and workers, including those individuals with barriers to employment, such as individuals with disabilities, as defined by WIOA, have the information and guidance to make informed decisions about training and careers, as well as access to the education, training, and support services they need to compete in current and future labor markets.
One-Stop Centers (American Job Centers or AJCs) Provide Excellent Customer Service to Jobseekers, Workers, and Employers and Focus on Continuous Improvement: One-Stop Centers and partners provide jobseekers, including individuals with barriers to employment, such as individuals with disabilities, with the skills and credentials necessary to secure and advance in employment with family-sustaining wages. Additionally, AJCs enable employers to easily identify and hire skilled workers and access other supports, including education and training for their current workforce. Further, rigorous evaluations support continuous improvement of AJCs by identifying which strategies work better for different populations; states, local areas, and training providers remain accountable for performance; high-quality, integrated data informs policy maker, employer, and jobseeker decision making; and training providers are accountable for performance using the data and evidence.
The Workforce System Supports Strong Regional Economies: Meeting workforce needs is critical to economic growth. State and local workforce development boards—in partnership with workforce, economic development, education, and social service organizations at the state, regional, and local levels—align education and training investments to regional civic and economic growth strategies, ensuring that all jobseekers and businesses can access pathways to prosperity.
Implementing WIOA: Realizing the Vision
State and local workforce system leaders should take immediate action to achieve the vision of modernizing the workforce system and ensuring it operates as a comprehensive, integrated, and streamlined system that expands opportunities for all workers and businesses. Key operational and governing principles:
States align programs and ensure integrated services through a unified strategic plan and shared governance. Every state collaborates across the core programs (Adult, Dislocated Worker and Youth, Wagner-Peyser, Adult Education, and Vocational Rehabilitation) to create a single unified and integrated strategic state plan. States govern the core programs as one system, assessing strategic needs and aligning them with service strategies to ensure the workforce system meets employment and skill needs of all workers and employers. States also collaborate with One-Stop partner programs and other partners at the state and local levels to produce Combined WIOA plans. States use the certification process and competition to help achieve this vision and ensure continuous improvement.
Workforce boards focus on strategy. As strategic leaders, state and local workforce boards, in partnership with governors and chief elected officials, facilitate public-private partnerships; support sector strategies and career pathways that advance opportunities for all workers and jobseekers, including low-skilled adults, youth, and individuals with disabilities; foster innovation; and ensure streamlined operations and service delivery excellence.
States and local areas align workforce programs with regional economic development strategies. Local boards, program leaders, and elected officials share a common vision and design and govern the system regionally; create unified regional and local plans integrating education, training, support services, and other workforce services across the core programs; align workforce policies and services with regional economies; and support sector strategies tailored to their needs.
The One-Stop Center network and partner programs are organized to provide high-quality services to individuals and employers. State and local boards, One-Stop Center operators, and partners must increase coordination of programs and resources to support a comprehensive system that seamlessly provides integrated services that are accessible to all jobseekers, workers, and businesses.
States and local areas promote accountability and transparency, and data drives decisions and informs customer choice. State and local leaders ensure investments in employment, education, and training programs are evidence-based and data-driven, and programs are accountable to participants and taxpayers. This includes evaluating approaches and aligning performance accountability and data systems to support program management, facilitate common case management systems, and inform policy. State and local areas provide robust, validated data to inform strategy, operations, and evaluations. Information technology systems are designed to reduce burden and present integrated information to support services, inform customer choice, and guide strategy development. Technological strategies for improving the quality of services are adopted, including advances in digital literacy skills and models for accelerating skill acquisition and credential attainment of jobseekers.
Taking Action Now
Most WIOA provisions related to DOL-administered programs take effect in Program Year (PY) 2015, which starts July 1, 2015. Workforce system leaders are asked to step back and re-envision how they conduct business and restructure activities accordingly. Below are recommended actions workforce system leaders and partners are strongly encouraged to take now to move toward full implementation of the law. The list is not exhaustive.
Identify and allocate funding for transitional activities. TEGL 12-14, Allowable Uses and Funding Limits of Workforce Investment Act Program Year (PY) 2014 funds for Workforce Innovation and Opportunity Act (WIOA) Transitional Activities explains that states and locals may use up to two percent of the WIA's Fiscal Year 2014 Youth, Adult, and Dislocated Worker formula funds to transition to WIOA. The TEGL identifies nine priority areas for transition activities.
Build new, and strengthen existing, partnerships. WIOA requires states and local areas to enhance coordination and partnerships with local entities and supportive service agencies for strengthened service delivery, including through unified state plans and combined state plans. These plans should include statutorily specified additional partners in the planning process; establish a set of system performance measures that apply to all core programs; strengthen linkages between a myriad of complementary programs within the One-Stop Center system; require co-location of employment services in One-Stop Centers; add One-Stop Center partners, such as Temporary Assistance for Needy Families (TANF) and the Jobs for Veterans State Grants (JVSG) programs; enhance the role of apprenticeship; clarify partner programs support for system infrastructure costs and other common costs; and ask the system to work regionally and across local workforce development areas. Additionally, successful implementation of many of the approaches called for within WIOA, such as career pathways and sector strategies, require robust relationships across programs and with businesses, economic development, education and training institutions, including community colleges and career and technical education local entities and supportive service agencies. Robust partnerships will be required to successfully enable our dual customers—jobseekers and employers—to drive solutions, to ensure these customers receive excellent services, and to effectively support economic regions.
Engage with core programs and other partners to begin strategic planning. Local and state leaders should engage in strategic planning and find new ways to align core and other key programs, such as Registered Apprenticeship, Job Corps, JVSG, TANF, Perkins Career and Technical Education programs, Unemployment Insurance, and required partners under the Act. It is vital to understand the new unified and combined state plan requirements, and assess whether the right partners are at the table, and are participating fully as equal partners in the design and coordination of the programs and services within the workforce system. Strategic planning should include concrete goals as well as a vision of success: how the workforce system should ideally function in each state to best meet WIOA goals. We encourage local and state leaders to include state economic development staff and alignment of workforce and economic development goals.
Reassess One-Stop delivery system. With your WIOA partners, reassess the One-Stop delivery system and what is needed to achieve seamless service delivery models that place the customer at the center of how programs are designed and delivered. Consider operations, such as "bricks and mortar" and information technology infrastructures in light of new requirements: core and mandatory One-Stop Center partners; co-location of Wagner-Peyser employment services; procedures and policies to transition to selecting One-Stop Center operators through competitive procurement; a Memoranda of Understanding to address One-Stop Center infrastructure funding; physical and programmatic accessibility requirements; and the vision of WIOA and state established goals. These actions will better position states and local workforce development areas to better tailor the state's plan for infrastructure funding and certification of One-Stop Centers.
Develop plans to ensure workforce investment boards become WIOA compliant. State and local boards must meet the new membership requirements and be able to carry out new functions by July 1, 2015. Chief elected officers should review the new requirements to reconstitute and certify boards. When establishing standing committees, we strongly encourage focusing on serving youth, low-skilled adults, Indians and Native Americans, individuals with disabilities, and other priorities for the local area.
Develop transition plans. Transition to WIOA and realizing its vision is complex and will require substantial activities leading up to July 1, 2015, and after. We encourage states and local areas to develop transition plans that will allow for transition preparation and tracking of transition and implementation progress and use these to guide implementation of new WIOA requirements. Also, consider customer impacts, such as how current WIA participants are impacted in WIOA transition.
Prepare for fiscal and program changes for transition across legislations. There are several fiscal and program changes that have been recently issued that require attention as part of transition planning. Financial staff and other applicable staff must become familiar with the requirements of this guidance and the impact on the state system and the transition from WIA to WIOA. States should also prepare for 100 percent transfer between adult and dislocated worker formula funds.
Assess state laws. It is important to review state legislation and identify areas that may conflict with WIOA to develop plans and strategies that resolve these conflicts. When state and federal laws conflict, federal laws take precedence.
Review Eligible Training Provider processes. Review Eligible Training Provider List processes and assess how they need to be updated to reflect new eligibility criteria. Examples include adding new procedures for the inclusion of Registered Apprenticeship programs; taking into account the need to ensure access to training throughout the state, including rural areas; and ensuring the ability of providers to provide training to individuals who are employed and individuals with barriers to employment. States must also take steps to ensure that eligible training providers are in a position to provide required outcomes information for individuals served by their programs by July 1, 2015.
Ensure new or existing youth service contract operators support the 75 percent out-of-school youth and the 20 percent work experience expenditure rate requirements. States and locals that are not currently meeting the 75 percent out-of-school youth requirement must begin to prepare for this transition.
"We love LEAP. It helps the unemployed think of the many issues they are facing and verbalize what they are worried about. We wouldn't get to some issues without LEAP because people are overwhelmed by stress. LEAP gives the unemployed a tool for moving forward."


Workforce Program Administrator
"Shows job seekers where to begin and what priorities to focus on…makes the job search more productive."


Diana Aughe, Career Coach
"LEAP showed me "where my needs are and where to get help."


Dislocated Worker in Indiana